The SnapVend Locker is a sturdy companion to the SnapVend Coil Machine. It is tethered to the Coil Machine which usually acts as the Controlling Unit.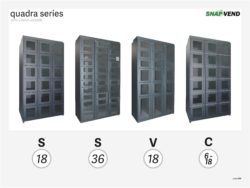 As mentioned in the Coil Section, 95% of all the placements in major Tool and Safety Vending operations made by the largest placer of Vending Solutions is the combination of a Coil Machine and 1 or more Lockers. This locker has 18 Doors of either Variable Sizes or all the same size. Rugged and well lit with LEDs for easy product identification and power savings, The SnapVend locker system has flexibilities like Check In and Check Out – Simple Configuration Changing – and Expandability, thanks to the VendNovationTM Controllers and Software, the heart and soul of the SnapVend System.
Power outlets can be added to as many bays as you like for Rechargeables at a small fee per door.
Additionally, our Proprietary -VendNovationTM Controller- can be added to any Locker to make it a Stand Alone Solution, which can have additional banks Lockers added to IT. This feature also has a separate fee."
Data Sheet  [ddownload id="6208″]